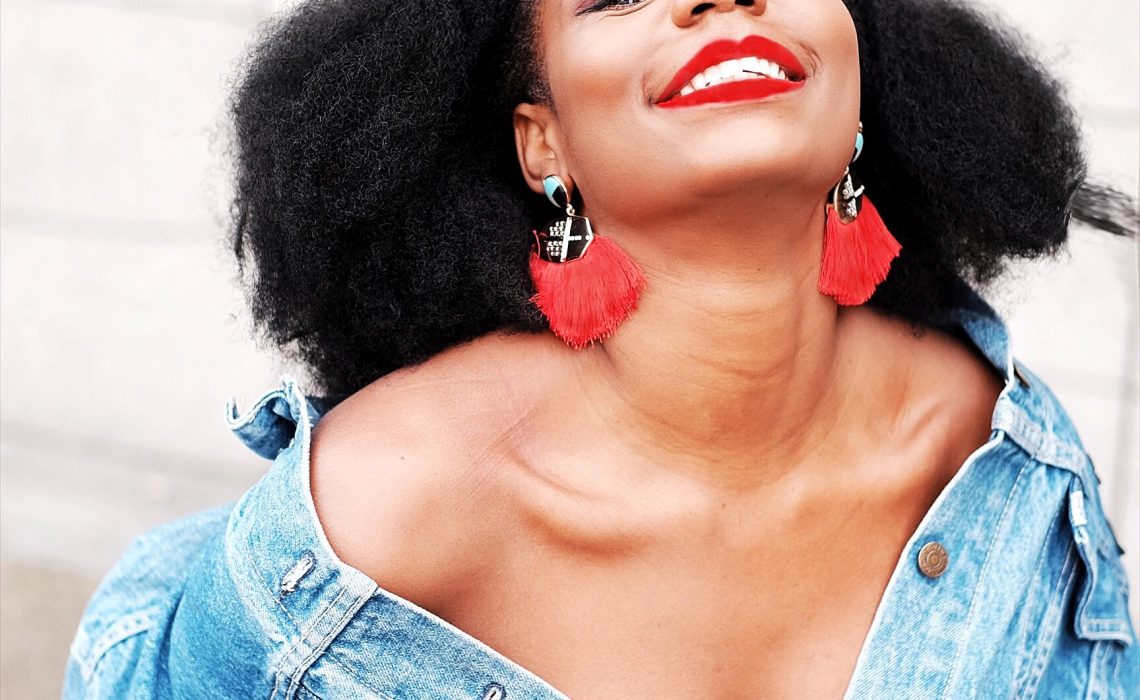 Hello beautiful humans,
I hope y'all have had a beautiful start to the week. I know I set out to be consistent with weekly posts from the beginning of the year. I'd say that I have been good up until now but occasionally I get swamped with work and life as we all do so please, please bear with me.
This weeks look is focused on denim. I'll start with a little background to how Jeans came about.
In 1851, Levi Straus moved from Germany to Newyork to join his older brother run their family business selling dry goods. Two years later he moved to San Francisco to expand their business and established the western branch which sold cotton cloth. One of his customers happened to be Jacob Davis, a tailor from Reno, Nevada who made functional items such as wagon covers, tents etc. One day Mr Davis' customer ordered a pair of pants that could withstand hard work. He decided to make them from denim material that he had bought from Levi Straus and made them stronger by placing copper rivets at the places pants rip the most. When he wanted to patent them, he wrote LEVI STRAUSS and they became partners thereafter and thats how jeans were born.
As you know by now, I am fascinated by how functional clothing changes to fashion items. Jeans were first a work clothing and has become a fashionable item.
In the 90's when I was a teenager, denim was a major hit as much as minimalistic fashion. The need to look stylish was popular among both males and females. Of course casual looks involved jeans one way or another and the trend continued into the 2000 decade. After this, the styles are recycled and changed with a few twists from the years back mostly the 1950's 60′ and 70's.
I love that denim keeps reinventing itself but still remains functional while fashionable depending on individual style.
When I bought this vintage Levi oversized jacket, it was plain. I bought and used the Iron-on patches to add character and colour.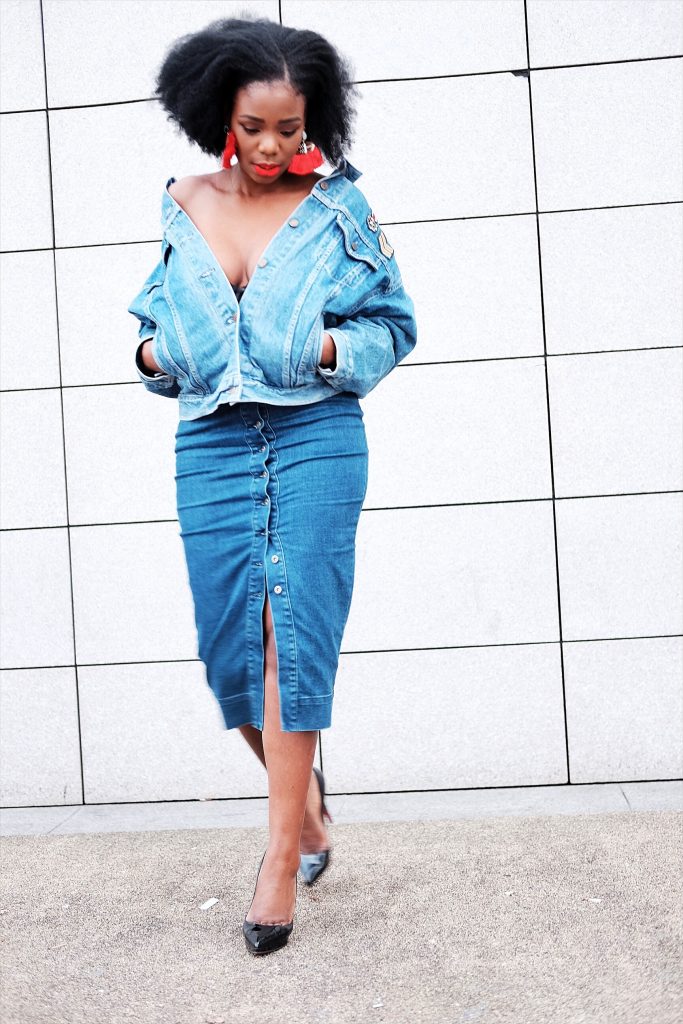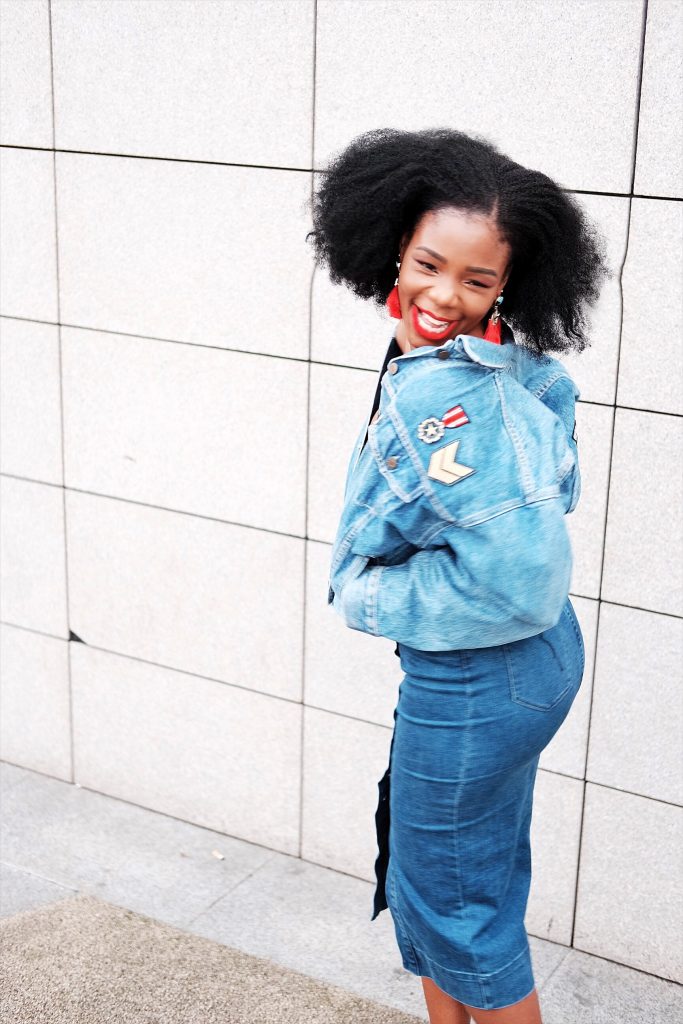 This first look, I styled it with a fitting high waisted skirt and a pair of pigalle Louboutin.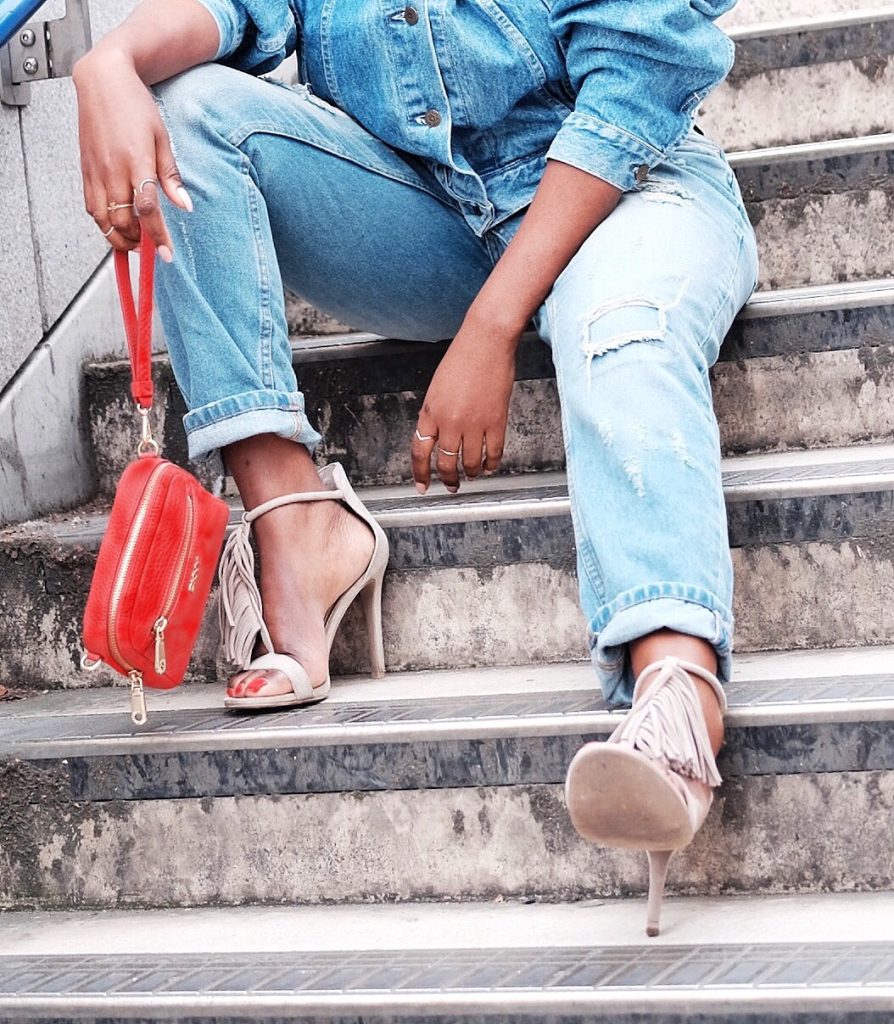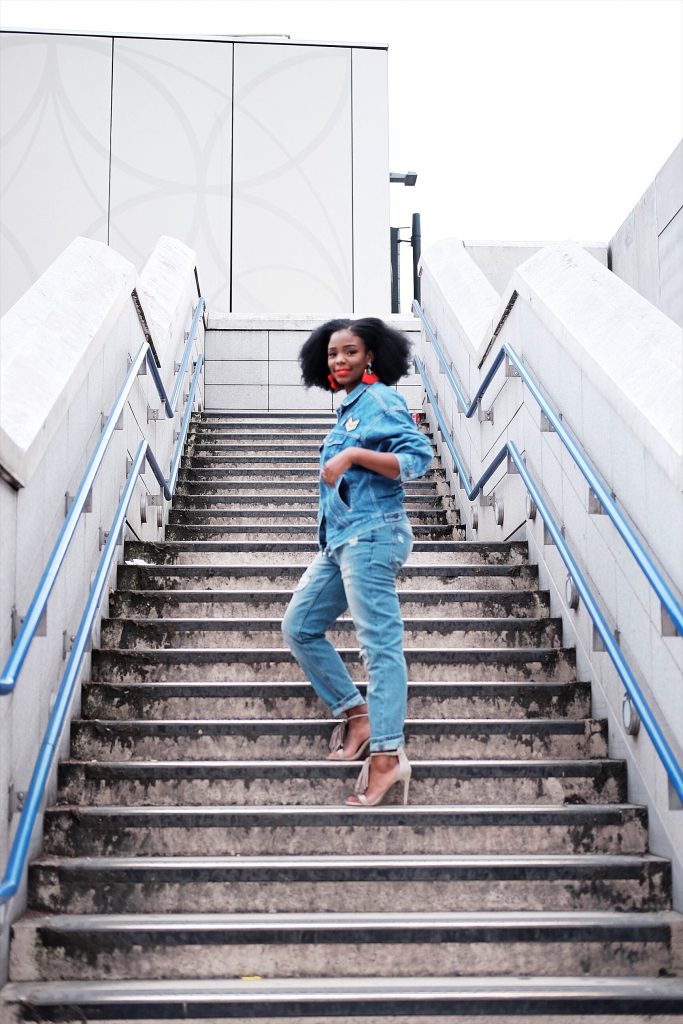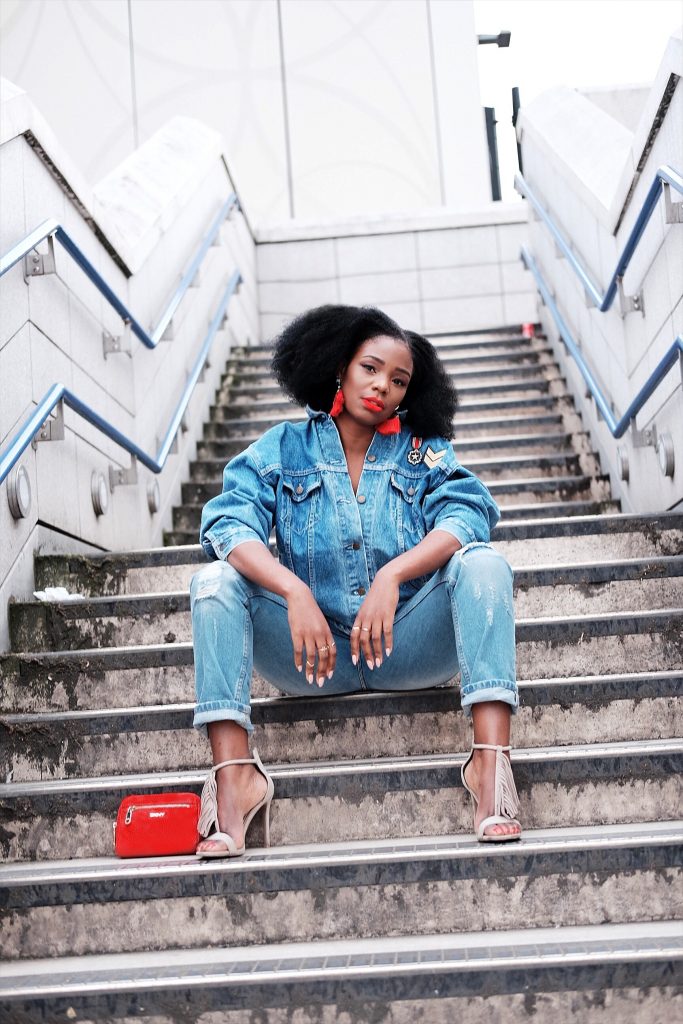 The second look, I styled it with a distressed boyfriend jeans.
They are both chic outfits and have street-style written all over.
So lately I have been feeling a bit overwhelmed with everything I try to juggle on a daily basis. Having a full time job, blogging, making sure I'm eating and staying healthy, making time to socialise and maintaining the relationships with my friends and my "ME" time. Yeah, you've noticed how I've highlighted my ME time? Yes guys that is very important to me. I generally think a lot and my brain is always running a hundred miles per hour and doesn't stop !! So this is the time time where I try and let go of everything going on around me and in my life and just do something that I enjoy doing. And ladies, It's nice to pay to get spoiled but it doesn't mean if you can't afford the prices at the spa then you can't do it. I buy affordable body scrubs or better yet, mix up something up. One of the perks in living in this generation is the limitless access to information about everything. So, I say google it, Pinterest it, youtube it and you'll find ways to pamper yourself at home and feel great without breaking the bank.
After my home pamper sessions, I always feel like I've taken a breather and I'm ready to go back to adulting. It's easy to assume that successful people have always had it easy and don't go through these challenges. I mean, we are all human so we all struggle to find balance and It's all part of life. There are people who have done it and still doing it so I believe Its possible to manage everything. The facts are there is no magic to it. There's hard work behind it all, risks and sacrifices. At the end of the time, It'll depend on the your priorities.
I lost both my parents when I was under the age of ten. Life was and has not been easy. I shall talk more about that on another post lol but looking back my biggest motivation has always been to do things that my mom would be proud of. So giving up has never been an option. Yes, things, life got so tough sometimes and I cry if I need to, take a break If need be but I get back to it. It's the same thing now that I am a grown woman. It doesn't matter what I start, I may find that it's not for me and decide to try something else. But giving up is NEVER an option. Let's be honest, everyone goes through those times that you become tired, fear creeps in, and you start feeling like you can't achieve what you want. Nobody has it altogether so do what you need to do and get back to the race, get back to striving for your goals, your passion, your dreams. We are our biggest critics aren't we? Lets start being our own  biggest cheerleaders and supporters and strive for BETTER.
You know I really love to hear your comments. What motivates you most in life? What do you do when you find life overwhelming?
Denim Jacket; Similar HERE
Iron patches; Similar HERE
Denim skirt; Similar HERE
Jeans; Similar HERE
Earrings; HERE
Heels; HERE for first outfit & DUNE(sold out) for second outfit
Bag; Similar HERE
Remember BE-YOU
Vee XO