Hey beautiful humans, I hope y'all had a fantastic weekend. Now it's back to the routine and the grind chasing that paper.
This week I am taking you back to the classics,  the black and white affair. These two colours are two of the five colours of Coco Chanels' DNA and inspirations. I am sure most of us have owned one thing thats is made from the brand or inspired from it. Whether it's  a perfume, clothing or handbag, we can agree that we take pride in the brand because of how it makes us feel, CONFIDENT!
Most stylists will agree that black and white ensembles are chic and you can never go wrong with them. I am very comfortable and find it easy to style these two colours.
Going back to history of Chanel, the mission of Chanel's "look" was always to portray elegance, grace and style and Coco Chanels' famous quotes goes  "fashion fades but style remains". I'd like to think that we can agree that white and black is timeless.
I believe in finding your own style that makes you feel good, comfortable and confident.  People are able to see your character and personality(who you really are) when you most comfortable. It's almost like you are telling a story in your clothing.
I styled this look using the deconstructed shirt I talked about in one of my previous post, where I styled it with a frilled dress. Because I had the dress over the shirt, it was difficult to see it properly. I did promise to have a post about it so you can all have a better look at the shirt.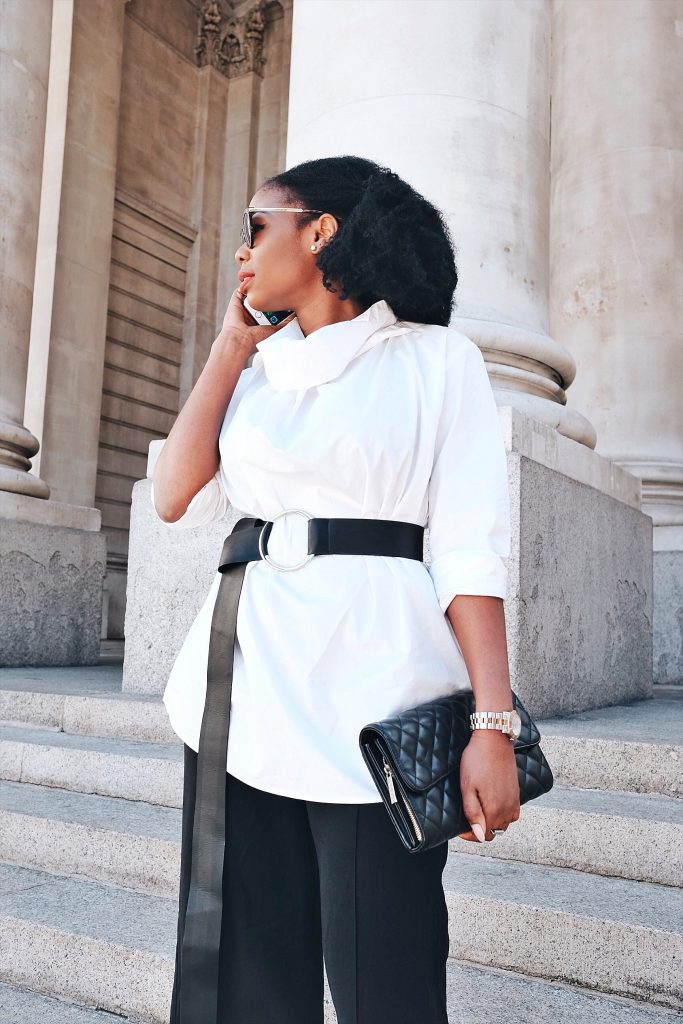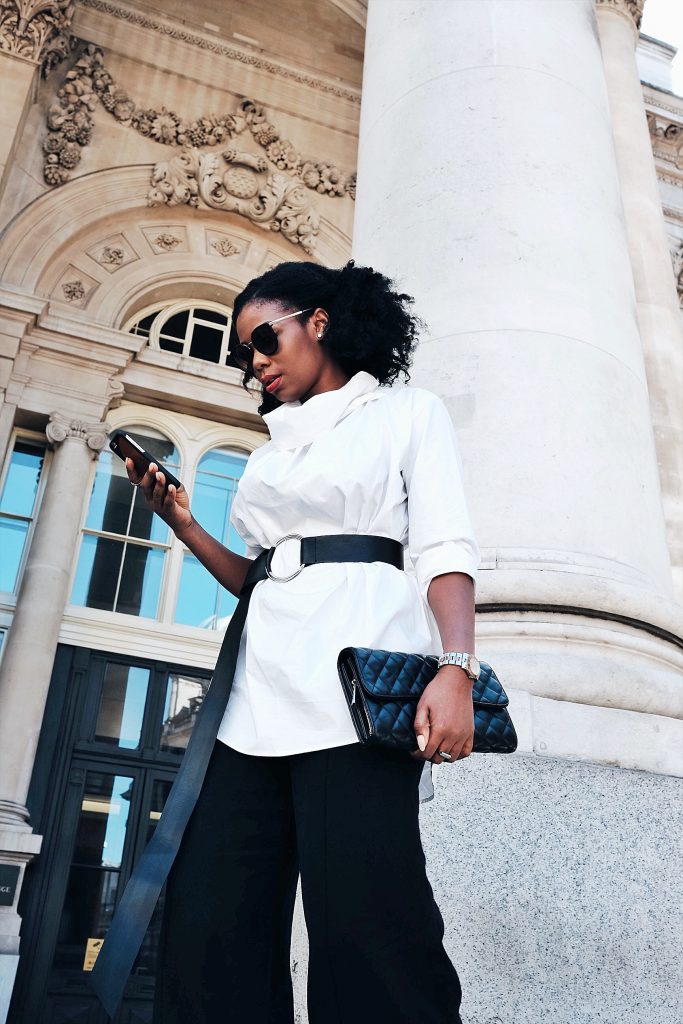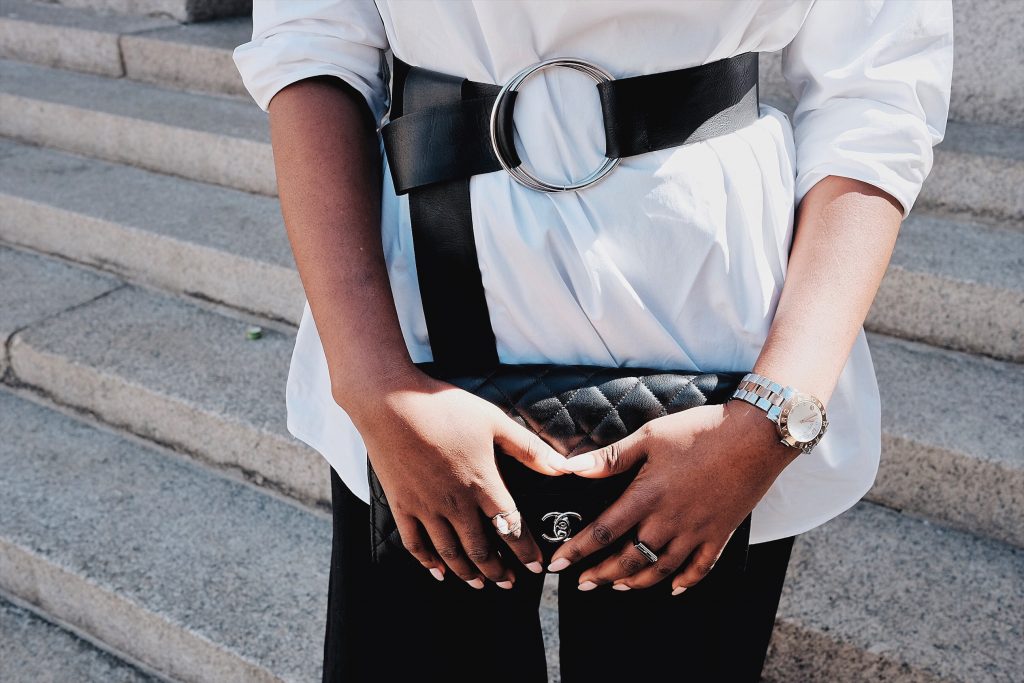 I styled it with high waisted palazzo trousers and a circle buckled belt.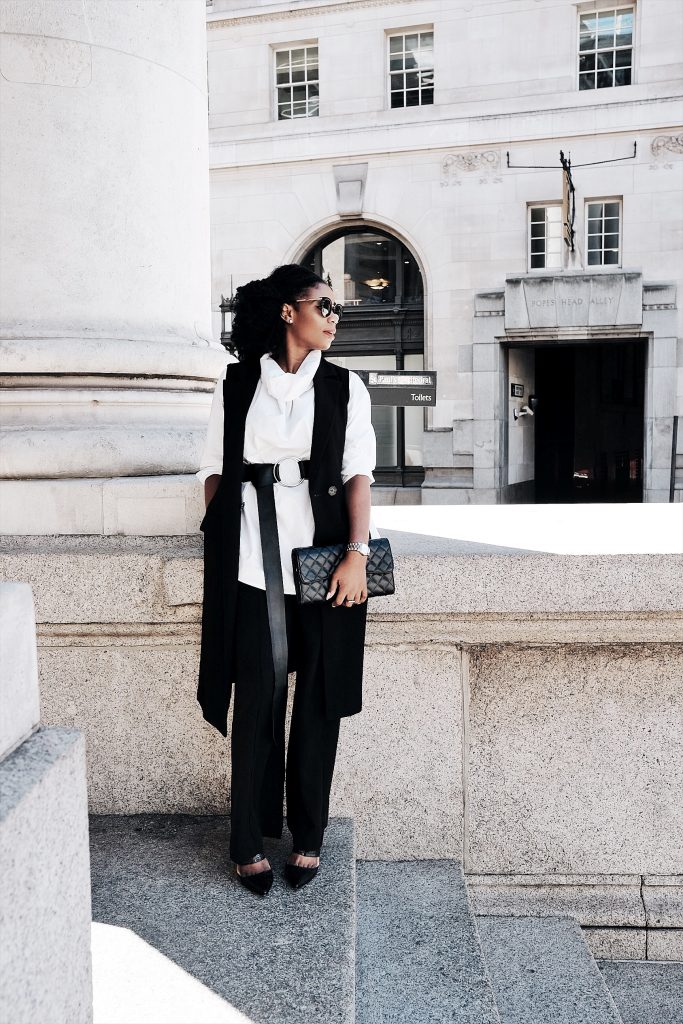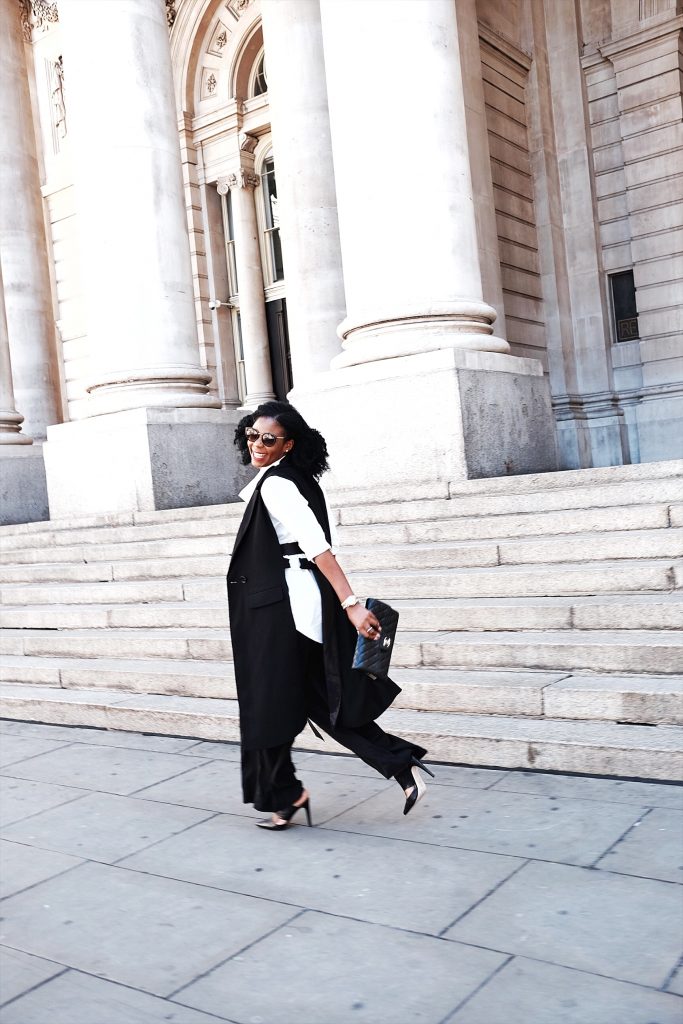 The second look, I wore a double breasted long waist-coat over the outfit and completely transforms the outfit into sophisticated look. 
On my travels this week, I stumbled on a sermon by TD JAKES. He talks about 7 things every single person ought to know. I could relate to all of them. Some points I have gone through already and some I am currently going through. There are 2 points that are my favourite to that sermon. 'Seeking a whole life & set a guard on your heart ".
On the first point, he talks about how single people, like myself are just waiting for things to happen, waiting on someone to come through to give them a sense of completeness. It's crucial to go on the assignment while single to find yourself and get to know the things that make you happy.  I stopped waiting and made a choice to live. I had to make a choice to stop waiting for someone to make me happy and try and do the things I have always wanted to do. These things are different for different people. For some it's travelling, some it's cooking and for some it's art. Find what it is that makes you complete.
On the second point, he talks about how we need to value ourselves and stop allowing our hearts to be smitten by every compliment that comes our way. This goes for both men and women. There's men out there who just know how to find your weakness and use it to their advantage to get what they want and similarly women who know how to work their magic into a mans' heart. Let's protect our hearts. It's time to let go of ghosts, time to let go of past relationships and thinking how good it was and keep creeping back to them because that will leave us stagnant. If it's over, it's over. You have got to value yourself. You are special, you are worthy, you are valuable and you deserve someone who respects you, is faithful to you and love you and you alone.
Life is too short to be wasted waiting.
I do value you feedback so please leave comments below…!
If you are interested to listen to the sermon go HERE
Trousers; HERE
Shirt; HERE
Belt;  HERE
Waistcoat; SIMILAR, HERE
Remember BE-YOU
Vee XO