I had been longing for a very long time to visit Jordan. Most people I had spoken to only had good things to say about the country. So finally, with a whole weekend off I thought to myself, when will it ever be a good time to visit Jordan if not now.
One of my very good friends had visited the week before and she was very helpful in giving me all the tips on what to do.
Firstly, she connected me with the guys who planned her trip (Alla and his brother). They are Jordanians locals who do private tours in Jordan. They offered me three options to choose from depending on how many days I wanted to be there for. I opted for the two nights and three days which included the following:
A visit to Petra
A visit to Dead Sea
A visit to Wadi Rum
My trip started out with the 14:00 Emirates flight from Dubai to Amman which was 3 hours 20mins long. I slept most of the flight and landed into Amman around 16:30 pm local time. Alaa's brother was waiting for me right outside the meeting area at the airport to take me to Petra. The drive took about 3hrs by road and by the time we got to the hotel it was already 7:30pm. I raced through dinner so I could have a good sleep for my adventure the next day.
I was really happy that I decided to do the trip this time of the year because the weather was absolutely amazing. The days were warm and a jacket did the trick to cancel the chilly evenings.
I had met 3 girls the night before at dinner who were also doing the tour the following day and we decided to go together. Adventures are always more fun with more people so I was happy about that. We took off from the hotel around 9:30am and set off for our adventure. We were told that it'd take us about seven hours to get to the end of the trail and back and another two hours,  if we decided to hike all the way to the top to the Monastery. I wasn't keen on the hiking so we only walked to the end of the main trail. It took us about four and a half hours. It all depends how long you stop at each sight.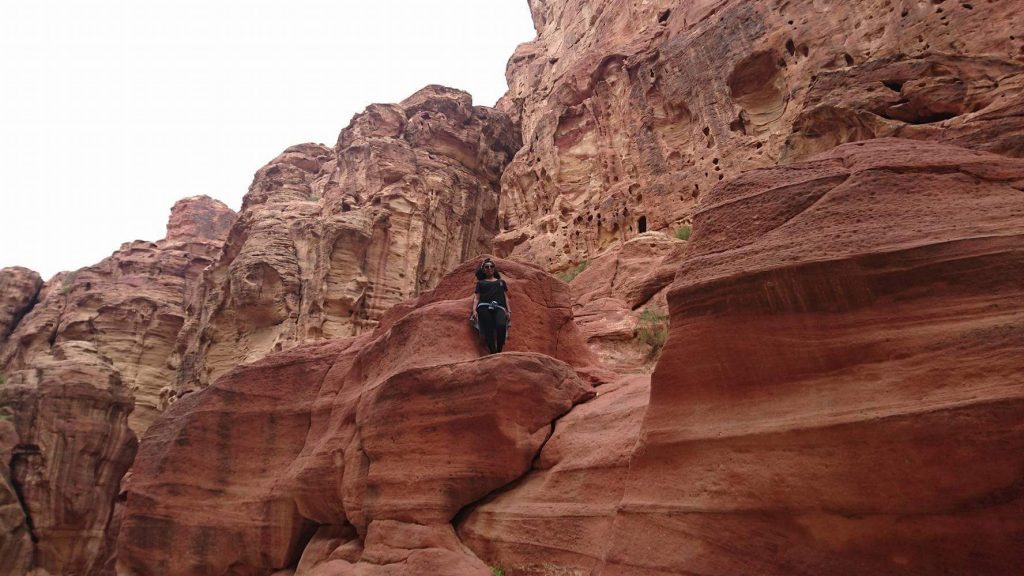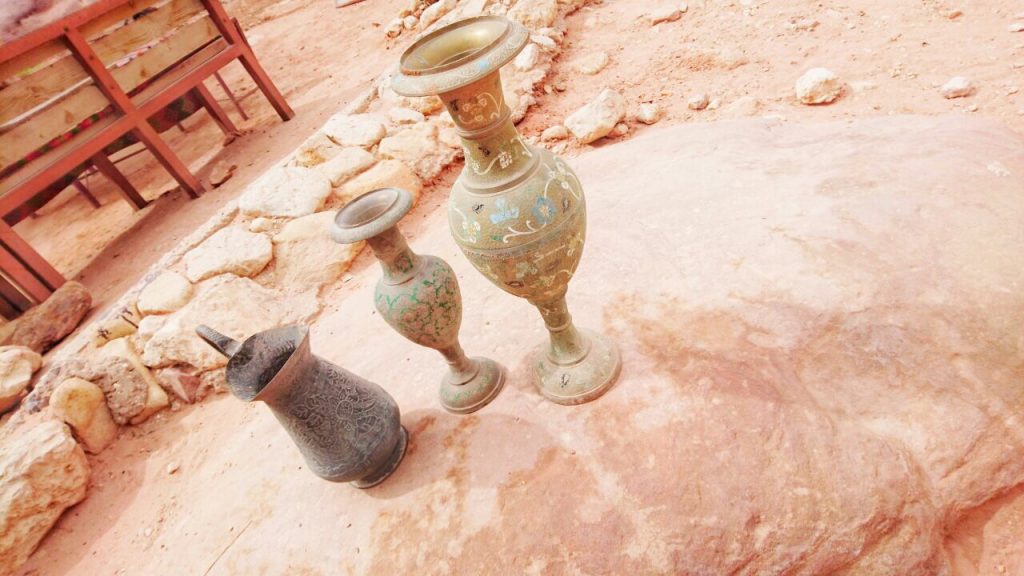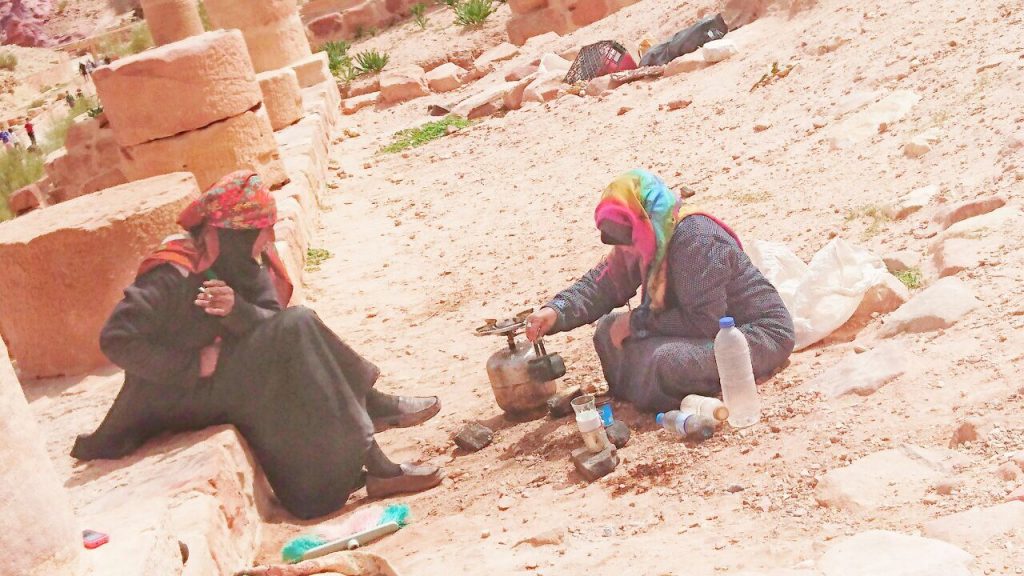 WOMEN BREWING TEA – THE GREAT TEMPLE – PETRA
After  the tour, I returned to the hotel and got ready for the drive to Amman. This was when I was really glad that I booked with Alaa and his team because they drive you everywhere. It was lovely to just sit back and enjoy the ride and the views along the way while recovering from the exhaustion of the tour.
It was almost 8pm when I arrived in Amman. I had dinner at a local restaurant across the hotel I was staying at.  It was only right to have local food.  They recommended a dish called MANSAF. It's lamb cooked in a sauce of fermented dried yoghurt served with rice. It does have an acquired taste but it's soulful and delicious. It's different from the African food that I am used to which we can't help to use tomatoes/tomato paste.
I stayed at Art hotel for my last night in Amman which is located right in the heart of city. It is reasonably priced, clean and the staff are friendly and very helpful. If you are searching for a hotel in Amman, I'd definitely recommend them.
I was due to head back to Dubai the following day but not without experiencing the Dead Sea that has everyone ranting about on blogs and social media. It took us about an hour to get there and entrance fee to the Dead Sea Spa hotel is 30JOD which includes lunch.
The thought of having my body covered in mud got me both excited and scared at the same time. For some reason as a child you find joy in playing with it but all it does is get you in trouble. So you can only imagine my hesitation there if this was a good idea lol. The rebellious child in me wasn't going to let this chance pass me by thou.  So there I am about to start applying mud on my body only to be schooled that, firstly you must soak yourself (only from your feet to your neck) in the sea for sometime, then apply the mud mask and wait for it to dry a little. Finally, you soak your body  in the sea again, finishing with a rinse with the salty water. I arrived pretty early which was good because they weren't a lot of people.
The lovely swim was cut short to make sure I had lunch before heading for the airport. They served  a buffet with a variety of Arabic delicacies from salads, grilled kebabs and sweets for desert. My favourite Arabic sweet is called BAKLAVA which is stuffed with pistachio. It's a must to enjoy this with the famous herbal tea with sage.
It was  3 day trip packed with good food, adventure, warm hospitality, making new friends, learning about new culture which is always refreshing. As much it was hectic fitting all that in three days and tiring, it was well worth it.
I couldn't leave without getting all the beauty goodies made from the dead sea. I'll do a review on them on the next post. So make sure you are subscribed so you are notified when it's published.
REMINDER – Make sure to change your money to the local currency before you get into Jordan otherwise should you wish to change at the airport, you'll  pay a service charge and also the rate isn't good at all.
Feel free to drop any comments and questions about the trip, the places I visited and  how to get in touch with Alla and his team.
Until the next adventure…
Thanks for stopping by.
Veronica xo